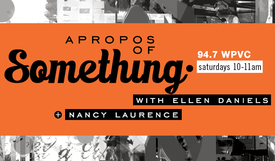 Apropos Of Something hosts Ellen Daniels and Nancy Laurence talk with Kate Buford, founding partner of Biography by Design, award-winning author, radio commentator, on why everyone's life story has the makings of a rich, compelling read; and Russ Linden, Chair, Welcoming Greater Charlottesville, on how celebrating diversity brings people together.
Apropos Of Something seeks out guests who are passionate about the arts, politics and society at-large. Co-hosts Ellen Daniels in Charlottesville and Nancy Laurence in New York City chat with experts, activists, and the most interesting people they can find. We guarantee every show will be Apropos Of Something.
Join Ellen and Nancy on 94.7 WPVC the Progressive Voice of Charlottesville, every Saturday from 10-11 a.m.