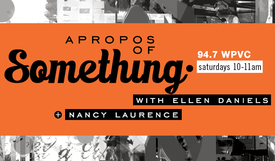 Apropos Of Something hosts Ellen Daniels and Nancy Laurence talk with Karen E. Bender, Visiting Distinguished Prof. of Creative Writing, Hollins Univ., fiction editor, Scoundrel Time, award-winning author, on her politically timely book of short stories, The New Order; and Susan Devan Harness, oral historian, speaker, noted author, on her new memoir Bitterroot, the emotional and complicated journey to unearth her American Indian past.
Apropos Of Something seeks out guests who are passionate about the arts, politics and society at-large. Co-hosts Ellen Daniels in Charlottesville and Nancy Laurence in New York City chat with experts, activists, and the most interesting people they can find. We guarantee every show will be Apropos Of Something.
Join Ellen and Nancy on 94.7 WPVC the Progressive Voice of Charlottesville, every Saturday from 10-11 a.m.