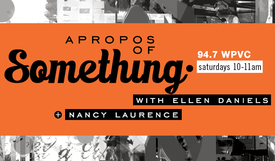 Apropos Of Something hosts Ellen Daniels and Nancy Laurence talk with Shilpa Dave PhD, Asst. Dean, UVA College of Arts & Sciences, Asst. Prof. of Media Studies and American Studies, on how pop culture's ethnic representations keep shifting in an interconnected world; and Cathy Barrow, award-winning author, cooking teacher and food preservation expert, on why pie is an endlessly fruitful endeavor, even when it's savory.
Apropos Of Something seeks out guests who are passionate about the arts, politics and society at-large. Co-hosts Ellen Daniels in Charlottesville and Nancy Laurence in New York City chat with experts, activists, and the most interesting people they can find. We guarantee every show will be Apropos Of Something.
Join Ellen and Nancy on 94.7 WPVC the Progressive Voice of Charlottesville, every Saturday from 10-11 a.m.