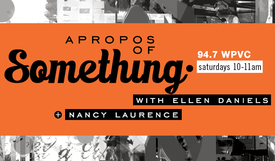 Apropos Of Something hosts Ellen Daniels and Nancy Laurence talk with Don Gathers, Cville social activist, co-founder of Cville Black Lives Matter and Congregate Cville member, whose community efforts, like his thinking, always lean forward; and Antwon Brinson, founder and president of Culinary Concepts AB, on cooking up the career path of a lifetime for young adults.
Apropos Of Something seeks out guests who are passionate about the arts, politics and society at-large. Co-hosts Ellen Daniels in Charlottesville and Nancy Laurence in New York City chat with experts, activists, and the most interesting people they can find. We guarantee every show will be Apropos Of Something.
Join Ellen and Nancy on 94.7 WPVC the Progressive Voice of Charlottesville, every Saturday from 10-11 a.m.