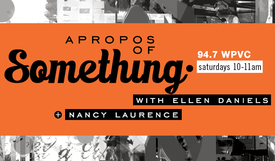 Apropos Of Something hosts Ellen Daniels and Nancy Laurence talk with Sierra Gladfelter, Interim Project Manager, UVA Institute for Engagement & Negotiation, VA Chapter Development Associate, Sierra Club, geographer, writer, researcher, on climate-exacerbated water scarcity and the ways in which communities are creatively adapting to these changes.
Apropos Of Something seeks out guests who are passionate about the arts, politics and society at-large. Co-hosts Ellen Daniels in Charlottesville and Nancy Laurence in New York City chat with experts, activists, and the most interesting people they can find. We guarantee every show will be Apropos Of Something.
Join Ellen and Nancy on 94.7 WPVC the Progressive Voice of Charlottesville, every Saturday from 10-11 a.m.