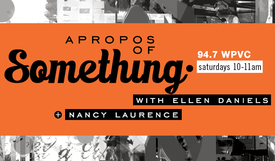 Apropos Of Something hosts Ellen Daniels and Nancy Laurence talk with Meredith D. Clark PhD, journalist, author, Asst. Professor, UVA Department of Media Studies, on the wide-ranging impact of black twitter and the digital archiving of social justice; and Preston Lauterbach, music journalist, award-winning historical author, VA Humanities Fellow, on his new book Bluff City, which chronicles the secret life of photographer Ernest Withers.
Apropos Of Something seeks out guests who are passionate about the arts, politics and society at-large. Co-hosts Ellen Daniels in Charlottesville and Nancy Laurence in New York City chat with experts, activists, and the most interesting people they can find. We guarantee every show will be Apropos Of Something.
Join Ellen and Nancy on 94.7 WPVC the Progressive Voice of Charlottesville, every Saturday from 10-11 a.m.