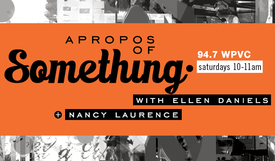 Apropos Of Something hosts Ellen Daniels and Nancy Laurence talk with Susan Elliott, Cville Climate Protection Program Manager, Div. of Environmental Sustainability, on the city's multi-pronged plan to tackle greenhouse gas emissions; and Eduardo Montes-Bradley, award-winning documentary filmmaker, photographer, author, on illuminating people and places with his signature provocative pov.
Apropos Of Something seeks out guests who are passionate about the arts, politics and society at-large. Co-hosts Ellen Daniels in Charlottesville and Nancy Laurence in New York City chat with experts, activists, and the most interesting people they can find. We guarantee every show will be Apropos Of Something.
Join Ellen and Nancy on 94.7 WPVC the Progressive Voice of Charlottesville, every Saturday from 10-11 a.m.