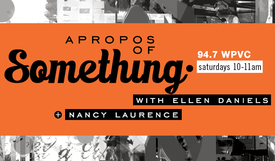 Apropos Of Something hosts Ellen Daniels and Nancy Laurence talk with Leona Sevick PhD, award-winning poet, Provost and Prof. of English, Bridgewater College, advisory board, Furious Flower Poetry Center, on her new book Lion Brothers, a collection of poignant, private yet profound poems; and Alex Zorychta, Asst. Dir. for Technology Entrepreneurship, Program Dir., Works in Progress, UVA, on inspiring innovative entrepreneurial students to create start-ups, non-profits and new technologies.
Apropos Of Something seeks out guests who are passionate about the arts, politics and society at-large. Co-hosts Ellen Daniels in Charlottesville and Nancy Laurence in New York City chat with experts, activists, and the most interesting people they can find. We guarantee every show will be Apropos Of Something.
Join Ellen and Nancy on 94.7 WPVC the Progressive Voice of Charlottesville, every Saturday from 10-11 a.m.