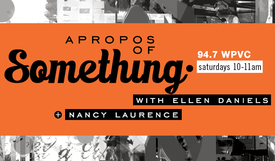 Apropos Of Something hosts Ellen Daniels and Nancy Laurence talk with Michael Keaveny, executive chef, Tavola, a Charlottesville rustic Italian eatery, on why he created a space to serve his favorite foods; and Tracy Howe, founder, Restoration Village Arts, songwriter, activist, music producer, on how inspiring others to serve the greater good inspires her.
Apropos Of Something seeks out guests who are passionate about the arts, politics and society at-large. Co-hosts Ellen Daniels in Charlottesville and Nancy Laurence in New York City chat with experts, activists, and the most interesting people they can find. We guarantee every show will be Apropos Of Something.
Join Ellen and Nancy on 94.7 WPVC the Progressive Voice of Charlottesville, every Saturday from 10-11 a.m.