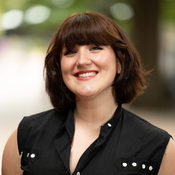 Erin O'Hare (Photo: Charlottesville Tomorrow)
Sunday Morning Wake-up Call host Rick Moore talks with Charlottesville Tomorrow Equity Reporter, Erin O'Hare, about recent stories in the local news. Topics include: Charlottesville's Future Land Use Map and the situation at Midway Manor. Also, Charlottesville Mayor Nikuyah Walker's decision not to run in the November election.
The Sunday Morning Wake-up Call is heard on Real Oldies 97.9 The WREN, Sundays from 11 a.m. to noon.