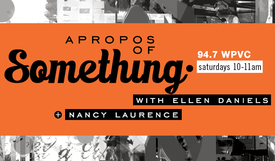 Apropos Of Something hosts Ellen Daniels and Nancy Laurence talk with Lisa Speidel PhD, Professor, Dept. of Women, Gender & Sexuality at UVA, about empowering a woman's identity thru self-defense training and disentangling our sexually confusing culture; and Cale Jaffe JD, Professor of Law, Dir. of UVA's Environmental and Regulatory Law Clinic, on his upcoming Supreme Court case to uphold states' sovereignty to ban uranium mining due to environmental, health and economic concerns.
Apropos Of Something seeks out guests who are passionate about the arts, politics and society at-large. Co-hosts Ellen Daniels in Charlottesville and Nancy Laurence in New York City chat with experts, activists, and the most interesting people they can find. We guarantee every show will be Apropos Of Something.
Join Ellen and Nancy on 94.7 WPVC the Progressive Voice of Charlottesville, every Saturday from 10-11 a.m.