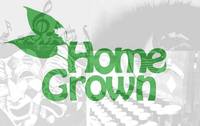 Home Grown: Your Show about Local Art
On today's Home Grown David and Leslie make a new friend and welcome back a member of the Home Grown family. First, the director of Woody Guthrie's American Song Bryan Garey (UVA Heritage Summer Theatre Festival) talks about this upcoming show that's not quite a musical, not quite a play, not quite a concert, but is all about the wonderful and legendary folk pioneer Woody Guthrie and his music. Next, Andy Davis from Bent Theatre Improv triumphantly returns to the show. This time Bent is presenting an 18 hour improv marathon, which may be the closest thing to a Charlottesville comedy festival that the city has seen in awhile. (Then David, Leslie, and Andy fall into an unabashed lovefest.) It's about one man who listened to the working and the workless and a theatre style all about listening on this week's Home Grown: Your Show about Local Art.
Home Grown is heard on 94.7 WPVC the Progressive Voice of Charlottesville, Sundays from 10 AM to 11 AM.