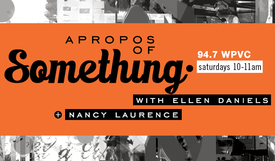 Apropos Of Something hosts Ellen Daniels and Nancy Laurence talk with Brian Noyes, proprietor, baker-in-chief of Red Truck Bakery, about his nationally-recognized, rural VA sweet spot and its new cookbook; and Adam Nemett, award-winning writer, co-founder MIMA Music, creative dir. History Factory, filmmaker, on his debut novel We Can Save Us All — modern day superheroes battling the collapse of civilization.
Apropos Of Something seeks out guests who are passionate about the arts, politics and society at-large. Co-hosts Ellen Daniels in Charlottesville and Nancy Laurence in New York City chat with experts, activists, and the most interesting people they can find. We guarantee every show will be Apropos Of Something.
Join Ellen and Nancy on 94.7 WPVC the Progressive Voice of Charlottesville, every Saturday from 10-11 a.m.