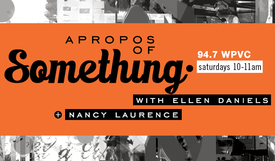 Apropos Of Something hosts Ellen Daniels and Nancy Laurence talk with the musician Jaewar, front man for Vibe Riot, director of Vibe Fest, activist, engineer, producer, on using music to advance positive change, both locally and globally; and Lee Graves, award-winning columnist, essayist and author, on all that's brewing in craft beers. From colonial days to its golden age.
Apropos Of Something seeks out guests who are passionate about the arts, politics and society at-large. Co-hosts Ellen Daniels in Charlottesville and Nancy Laurence in New York City chat with experts, activists, and the most interesting people they can find. We guarantee every show will be Apropos Of Something.
Join Ellen and Nancy on 94.7 WPVC the Progressive Voice of Charlottesville, every Saturday from 10-11 a.m.