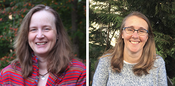 Ellen Osborne (left) and Catherine McCall
Sunday Morning Wake-up Call host Rick Moore talks with Ellen Osborne, Executive Director and Catherine McCall, Citizenship Coordinator, of Literacy Volunteers of Charlottesville / Albemarle about their organization's efforts to help people achieve full literacy. Topics include: Literacy, illiteracy and functional illiteracy and the role of literacy tutors. Also, WordPlay tournaments.
The Sunday Morning Wake-up Call is heard on Real Oldies 97.9 The WREN, Sundays from 11 a.m. to noon.