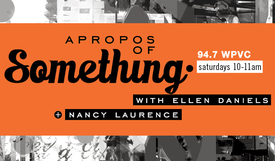 Apropos Of Something hosts Ellen Daniels and Nancy Laurence talk with Kate Seidel, a Columbia College grad who explored the Soviet space race by reading their cosmonauts' fan mail; Paromita Sen, a UVA professor studying how women's groups navigate the politics of protest; and Kent Rademacher, Central VA Beekeepers Assoc. President, on the A-Bee-C's of honey harvesting.
Apropos Of Something seeks out guests who are passionate about the arts, politics and society at-large. Co-hosts Ellen Daniels in Charlottesville and Nancy Laurence in New York City chat with experts, activists, and the most interesting people they can find. We guarantee every show will be Apropos Of Something.
Join Ellen and Nancy on 94.7 WPVC the Progressive Voice of Charlottesville, every Saturday from 10-11 a.m.