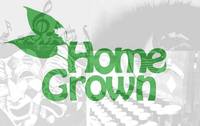 Home Grown: Your Show about Local Art
Today on Home Grown, David and Leslie are back together again just in time to talk to a Charlottesville arts figure. We welcome to the show, for the first time, John Johnson, founder of Darkstone Entertainment, where he has written, directed, and produced his own horror TV shows, short films, and feature films. Recently, John has experimented with reworking existing films, and we talk about his remake of Plan 9 from Outer Space and his plans to remake [Manos: Hands of Fate}(http://www.darkstone-ent.com/manos.html). We also talk about a development in John's personal life that he's just shared with the world, his diagnosis as having Parkinsons Disease. You don't want to miss this week's Home Grown: Your Show about Local Art.
Standard Podcast
[ 57:38 ]
Play Now
|
Play in Popup
|
Download
(142)
Home Grown is heard on 94.7 WPVC the Progressive Voice of Charlottesville, Sundays from 10 a.m. to 11 a.m.