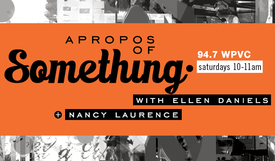 Apropos Of Something hosts Ellen Daniels and Nancy Laurence talk with Charles Shields, award-winning, best-selling biographer of mid-century novelists, on his writing process and his noteworthy subjects– Harper Lee, Kurt Vonnegut and John Williams; and Heath Hardage Lee, historian, curator and award-winning, critically-acclaimed author whose most recent work The League of Wives — the untold story of women's relentless efforts to bring their Vietnam MIA and POW husbands home– has been optioned for release as a major motion picture by Reese Witherspoon's production company.
Apropos Of Something seeks out guests who are passionate about the arts, politics and society at-large. Co-hosts Ellen Daniels in Charlottesville and Nancy Laurence in New York City chat with experts, activists, and the most interesting people they can find. We guarantee every show will be Apropos Of Something.
Join Ellen and Nancy on 94.7 WPVC the Progressive Voice of Charlottesville, every Saturday from 10-11 a.m.