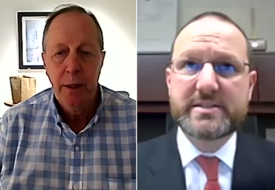 James Hingeley (left) and Joe Platania speaking via Zoom.
Speaking at the January 2021 meeting of the Senior Statesmen of Virginia, Commonwealth's Attorneys from Albemarle and Charlottesville, James Hingeley and Joe Platania discussed the recent changes in law as passed by the 2020 General Assembly and some of the proposals being put forward for the upcoming Session.
The men agreed that their backgrounds led them to better understand why crimes were committed and addressing those challenges would reduce criminal behavior. They see their roles as prosecutors as balancing the safety of the community with the rights of the defendants. They are both known as "progressive prosecutors" and hope that their philosophy will lead to criminal justice reform.
Hingeley and Platania reviewed new laws passed in the 2020 General Assembly including the banning of police from executing unannounced warrants, using choke holds, or conducting searches based on the smell of pot. Other new laws include empowering localities to form police civilian review boards with the power to subpoena and impose punishments. Juries will decide guilt or innocence, but no longer be imposing sentences. Judges will assume sentencing as they can have more knowledge and a better understanding of the law. Also, in certain categories, prisoners can earn good time credit and reduce their sentences.
In response to questions about the effect of the pandemic, both men agreed that trying to reduce jail population has been a goal. A collaborative group including attorneys, jail personnel, judges, OAR, and clerks as well as program services providers are working together to find alternatives to serving jail time. Other topics included: Prosecuting pot infractions, judges deciding sentences rather than mandatory sentencing for convictions.
The two spoke at the Wednesday January 13, 2021 meeting of the Senior Statesmen of Virginia. The meeting was held on Zoom. Following the presentation, questions were taken from the audience. The program was moderated by SSV President Jeff Gould.