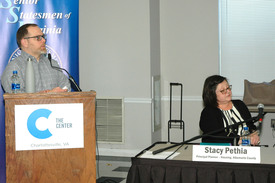 Sunshine Mathon (left) and Stacy Pethia speaking at The Center in Charlottesville.
What are the roles of the City and County in the growth of affordable housing? Does location matter? "Rural vs. Urban" or "Rural plus Urban?" What can they do to help. Find out in this interesting podcast.
In December Stacy Pethia became the principal planner for Housing for Albemarle County. Previously she coordinated Housing Programs in the City and managed Charlottesville's Affordable Housing Fund. Stacy has a PhD in Urban Regeneration Policy from the University of Birmingham and a BA in Sociology from the University of Pittsburgh.
Sunshine Mathon became executive director of the Piedmont Housing Alliance in 2017. The mission of Piedmont Housing Alliance is to create affordable housing opportunities and foster community through education, lending, and equitable development. Prior to that Sunshine served as the director of real estate development for Foundation Communities in Austin, Texas. Sunshine has a Master of Architecture from the University of Texas at Austin and a BS in Physics from Bates College.
Standard Podcast
[ 58:48 ]
Play Now
|
Play in Popup
|
Download
(153)
Stacy Pethia and Sunshine Mathon spoke at the Wednesday February 13, 2019 meeting of the Senior Statesmen of Virginia. The meeting was held at The Center in Charlottesville. Following the presentation, questions were taken from the audience. The program was moderated by SSV board member Peppy Linden.