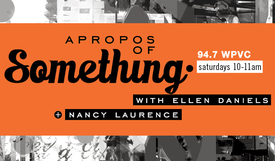 Apropos Of Something hosts Ellen Daniels and Nancy Laurence talk with Richard Guy Wilson PhD, esteemed Commonwealth Prof. of Architectural History, UVA and Dir., Victorian Society in America's Summer School, on landmark spaces of all kinds; and Jim Tucker MD, Bonner-Lowry Prof. of Psychiatry & Neurobehavioral Sciences and Dir., Division of Perceptual Studies, UVA, on his extensive research into children's memories of past lives.
Standard Podcast
[ 54:17 ]
Play Now
|
Play in Popup
|
Download
(229)
Apropos Of Something seeks out guests who are passionate about the arts, politics and society at-large. Co-hosts Ellen Daniels in Charlottesville and Nancy Laurence in New York City chat with experts, activists, and the most interesting people they can find. We guarantee every show will be Apropos Of Something.
Join Ellen and Nancy on 94.7 WPVC the Progressive Voice of Charlottesville, every Saturday from 10-11 a.m.