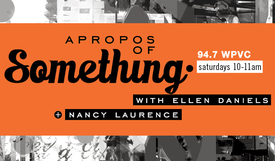 Join guest host Jeff Lenert as he interviews Kevin M, a local community member, as they discuss his journey from a 12 year old drug dealer in Newark NJ, through his career in banking in Chicago, into the Virginia Department of Corrections and how he became a community protector and activist.
Standard Podcast
[ 57:26 ]
Play Now
|
Play in Popup
|
Download
(80)
Apropos Of Something seeks out guests who are passionate about the arts, politics and society at-large. Co-hosts Ellen Daniels in Charlottesville and Nancy Laurence in New York City chat with experts, activists, and the most interesting people they can find. We guarantee every show will be Apropos Of Something.
Join Ellen and Nancy on 94.7 WPVC the Progressive Voice of Charlottesville, every Saturday from 10-11 a.m.