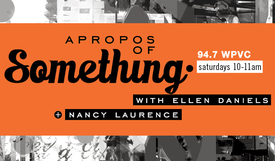 Apropos Of Something hosts Ellen Daniels and Nancy Laurence talk with Leslie Hubbard, Program Director for Student Learning and Initiatives at UVA's Contemplative Sciences Center, on the value of adding mindfulness and meditation to a course syllabus; and Gregory Lewis, Head Sous Chef at Cville's Maya Restaurant, on creating a menu steeped in southern style.
Standard Podcast
[ 53:54 ]
Play Now
|
Play in Popup
|
Download
(115)
Apropos Of Something seeks out guests who are passionate about the arts, politics and society at-large. Co-hosts Ellen Daniels in Charlottesville and Nancy Laurence in New York City chat with experts, activists, and the most interesting people they can find. We guarantee every show will be Apropos Of Something.
Join Ellen and Nancy on 94.7 WPVC the Progressive Voice of Charlottesville, every Saturday from 10-11 a.m.