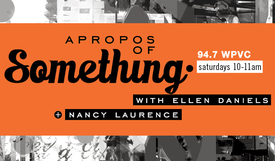 Apropos Of Something hosts Ellen Daniels and Nancy Laurence talk with Tanesha Hudson, Charlottesville native and activist, on her city's recent racist violence fitting into a long oppressive pattern; and Grace Elizabeth Hale Ph.D., Prof. of History and American Studies & noted author, on understanding the South's deep divide in Black and White.
Standard Podcast
[ 51:11 ]
Play Now
|
Play in Popup
|
Download
(289)
Apropos Of Something seeks out guests who are passionate about the arts, politics and society at-large. Co-hosts Ellen Daniels in Charlottesville and Nancy Laurence in New York City chat with experts, activists, and the most interesting people they can find. We guarantee every show will be Apropos Of Something.
Join Ellen and Nancy on 94.7 WPVC the Progressive Voice of Charlottesville, every Saturday from 10-11 a.m.