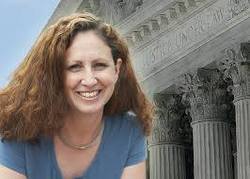 Dahlia Lithwick
Straight Talk host André Hakes talks with Slate Magazine courts and legal writer Dahlia Lithwick about the SCOTUS vacancy left by Justice Scalia's death, Obama's nominee Judge Merrick Garland, and the upcoming term.
Standard Podcast
[ 1:00:42 ]
Play Now
|
Play in Popup
|
Download
(148)
André Hakes is a Charlottesville based lawyer with the legal firm of Tucker Griffin Barnes P.C.
Straight Talk is heard on WPVC 94.7 Saturday mornings at 10:00 a.m.The station is looking for volunteers. Apply here if you are interested in working with the station.
Editor's Note: Due to this program's late start, the last minute or so has been lost. Our apologies for this inconvenience.