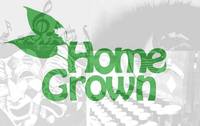 Home Grown: Your Show about Local Art
Today on Home Grown, David flies solo. Luckily the one consistent thing about Home Grown is that our guests are great. First, Abel Okugawa Wright has thrown on many hats (editor, composer, producer, filmer) to make — with director Aaron Farrington — a new documentary that's going to be shown at the 2018 Virginia Film Festival, Know Your Neighbor. David talks to Abel about what it was like to make a documentary about Charlottesvillians who've come to town as refugees. Wright specifically talks about how they've put the film together and why. Then, we welcome back comedians Chris Alan and Winston Hodges, hosts of The Laugh Your Ass Off Host Battle Shows, most frequently at The Southern Cafe & Music Hall. Chris and Winston talk about the two shows they have coming up and about the challenges and benefits of doing comedy in this time. It's two different types of storytellers this week on Home Grown: Your Show about Local Art.
Standard Podcast
[ 56:55 ]
Play Now
|
Play in Popup
|
Download
(69)
Home Grown is heard on 94.7 WPVC the Progressive Voice of Charlottesville, Sundays from 10 a.m. to 11 a.m.