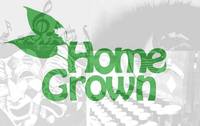 Home Grown: Your Show about Local Art
Today on Home Grown, we're back after the snow turned one week off into two! That's okay. David and Leslie are primed and ready to welcome two new guests to the show. First we have a whole crew to talk about Live Arts Theatre's upcoming production of The Curious Incident of the Dog in the Night-Time. Director Bryan Close and actor Mendy St. Ours join Jefferson-Madison Regional Library Adult Services Librarian Evan Stankovics to talk about this unique British book that people said could never be successfully adapted. We ask Close and St. Ours about the challenge of performing an unorthadox script based on an unorthadox novel. Next, it's Angel Metro in the studio! She's just released her new album DARK DAYS BRIGHT LIGHTS. We talk to Angel about the transition from playing in the Goth Rock band Gild the Mourn to doing this solo eletronic music project. We also talk to members of her live band Tom Lynch and Chad VanPelt about what it took to bring Angel's sonic vision to life. And somewhere in the midst of all this, David adopts a new crimefighting personna! It's a new year, and there's new art to bring to you on Home Grown: Your Show about Local Art.
Standard Podcast
[ 56:13 ]
Play Now
|
Play in Popup
|
Download
(114)
Home Grown is heard on 94.7 WPVC the Progressive Voice of Charlottesville, Sundays from 10 a.m. to 11 a.m.