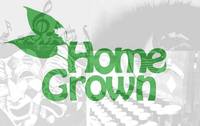 Home Grown: Your Show about Local Art
Today on Home Grown, David and Leslie welcome two pairs of artists who are furthering the conversation about, the consideration of, and the representation by African Americans in Charlottesville. First, playwright Peter Gunter and actor Jim Winton visit the show to talk about Peter's play The Crying Tree. For 12 years, Peter's been crafting this work about the unholy rat king that is racial explotation and American politics, until — after having it just not come together — he finally put it away. He talks about what moved him to take it "off the shelf" and get it to where it is now — going up at the Charlottesville Playwrights Collective in its first full production. Next, McGuffey Art Center artist Bob Anderson returns to the show but not for his own work. As with many artists, the Unite the Right Invasion motivated him to do something to counter the tide of hate that washed up on our shores like a medical waste wave onto a New Jersey beach. He started then working on a McGuffey celebration of Black History Month that showcased local African American artists, and after a year and half, we're here. Bob talks about this month's artists and events and is joined by one of the artists, Darrell Rose. Let the Right unite, we always bet on Black (and Brown and Tan and Red and Yellow and Pink Triangled and Opressed White and anyone else feeling the boot of the metaphorical family in the Big House who're getting fat on other people's labor and suffering on Home Grown: Your Show about Local Art.
Standard Podcast
[ 57:09 ]
Play Now
|
Play in Popup
|
Download
(102)
Home Grown is heard on 94.7 WPVC the Progressive Voice of Charlottesville, Sundays from 10 a.m. to 11 a.m.