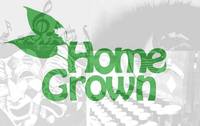 Home Grown: Your Show about Local Art
Today on Home Grown, David and Leslie get into it with two artists newly into their artistic careers, who've come to our lovely, nazi-convicting town from other countries. First, we welcome Uzo Njoku. She is a visual artist working in paint and a fourth year student at UVA, originally from Nigeria. We talk about her technique and subject matter (black women) at her current show, Uzo Njoku: Out of the Shadows which has just opened at New City Arts. We also talk about Uzo's emerging artistic philospophy. Next, we head over to the world of writing with Helen Chandler. She's originally from Ireland and lives and writes here now. She's recently taken a turn towards non-fiction essays, and we talk about what's behind that move. We also talk about her current project — a book about her aunts. You can hear some of that work when she shares the bill with Sam Bush at the Charlottesville Reading Series at New Dominion Bookshop. It's two artists outside of their home cultures talking about how they're working thoughts about those cultures into their work. So never say you don't get some culture on Home Grown: Your Show about Local Art.
Standard Podcast
[ 57:44 ]
Play Now
|
Play in Popup
|
Download
(119)
Home Grown is heard on 94.7 WPVC the Progressive Voice of Charlottesville, Sundays from 10 a.m. to 11 a.m.