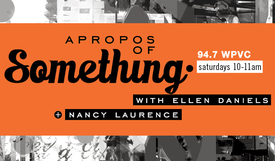 Apropos Of Something hosts Ellen Daniels and Nancy Laurence talk with Angela Taylor MD, Assoc. Professor, UVA School of Medicine, Dir., UVA Medical Center's Cardiometabolic Network, on her concerted efforts to improve the physical health and food health of those living in the Dominican Republic; and Alexis Mason, ESTEAM Summit for Girls co-founder, Gifted Resource teacher, on giving kids the tools to chart their own career path.
Standard Podcast
[ 57:00 ]
Play Now
|
Play in Popup
|
Download
(135)
Apropos Of Something seeks out guests who are passionate about the arts, politics and society at-large. Co-hosts Ellen Daniels in Charlottesville and Nancy Laurence in New York City chat with experts, activists, and the most interesting people they can find. We guarantee every show will be Apropos Of Something.
Join Ellen and Nancy on 94.7 WPVC the Progressive Voice of Charlottesville, every Saturday from 10-11 a.m.