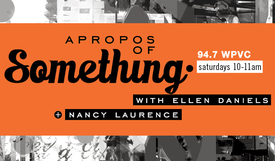 Apropos Of Something hosts Ellen Daniels and Nancy Laurence talk with award-winning, investigative journalist/author Hawes Spencer, about objectively documenting the tragic events in his new book, Summer of Hate: Charlottesville, USA; and Indivisible Charlottesville Steering Committee member Ken Horne, on their strategy for creating a blue wave in the very gerrymandered state of VA.
Standard Podcast
[ 54:07 ]
Play Now
|
Play in Popup
|
Download
(199)
Apropos Of Something seeks out guests who are passionate about the arts, politics and society at-large. Co-hosts Ellen Daniels in Charlottesville and Nancy Laurence in New York City chat with experts, activists, and the most interesting people they can find. We guarantee every show will be Apropos Of Something.
Join Ellen and Nancy on 94.7 WPVC the Progressive Voice of Charlottesville, every Saturday from 10-11 a.m.