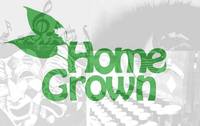 Home Grown: Your Show about Local Art
Today on Home Grown, David and Leslie speak to flautist Matthew Olwell. Growing up swathed in the Celtic music tradition, Olwell is experimenting with the style with his group CyberTrad, where he mixes his flute with and electric bass and beatboxer. That's right — beatbox. We talk to Matthew about cultural and artistic interchange, specifically between Irish American and African American music traditions. Check out CyberTrad's upcoming concert at The Front Porch Roost Music School. Next, Keith Morris returns to the show! Once Trump started his campaign, Keith started to get horrified. Then he started getting angry. Then he started working on what is now his new album. We talk to Keith about Psychopath and Sycophants, what's behind it and the role of the music artist in culture. Art is culture and culture is art on today's Home Grown: Your Show about Local Art.
Standard Podcast
[ 55:07 ]
Play Now
|
Play in Popup
|
Download
(81)
Home Grown is heard on 94.7 WPVC the Progressive Voice of Charlottesville, Sundays from 10 a.m. to 11 a.m.