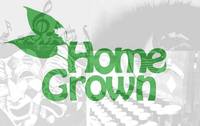 Home Grown: Your Show about Local Art
Today on Home Grown, it's week two of a no show guest! (Seriously, people! What's going on?) Fortunately David and Clinton had two young artists from Mary Baldwin University who were more than willing to fill the space. Lissa Fulton and Gil Mitchell from Mary Baldwin's Theatre Department come to the show to talk about their upcoming production, Sophie Treadwell's Machinal. We have Lissa and Gil for the whole hour, and they talk the machines of society, the benefits of non-realistic theater, and Shakespeare in Abu Dhabi. "Local" art also means art over the mountain here on Home Grown: Your Show about Local Art.
Standard Podcast
[ 56:42 ]
Play Now
|
Play in Popup
|
Download
(156)
Home Grown is heard on 94.7 WPVC the Progressive Voice of Charlottesville, Sundays from 10 a.m. to 11 a.m.