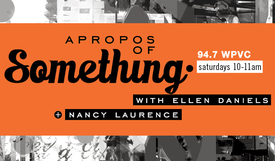 Apropos Of Something hosts Ellen Daniels and Nancy Laurence talk with Kelley Fanto Deetz PhD, Research Assoc., James River Institute for Archaeology, Asst. Professor, Randolph College and Adrian Miller, culinary historian, attorney, Deputy Dir. of Pres. Clinton's One America Initiative on the hidden figures cooking in plantation kitchens and White House kitchens; and Cullen Wade, Director, Nine Pillars Hiphop Cultural Festival, on creating community and positivity thru hiphop.
Standard Podcast
[ 54:49 ]
Play Now
|
Play in Popup
|
Download
(191)
Apropos Of Something seeks out guests who are passionate about the arts, politics and society at-large. Co-hosts Ellen Daniels in Charlottesville and Nancy Laurence in New York City chat with experts, activists, and the most interesting people they can find. We guarantee every show will be Apropos Of Something.
Join Ellen and Nancy on 94.7 WPVC the Progressive Voice of Charlottesville, every Saturday from 10-11 a.m.