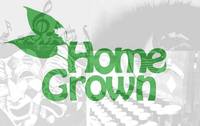 Home Grown: Your Show about Local Art
Today on Home Grown, David and Leslie get on the phone to talk to two great sets of guests. First, Kristen Chiacchia Executive Director and Chief Curator of Second Street Gallery sits in the studio while New York/C'Ville artist Ivy Nate calls in from the Big Apple. Ivy is one of 12 local artists in Second Street's current exhibit, Drawn to Charlottesville. With Kristen fresh from NYC and Ivy bouncing back and forth between us, we have a great chance to discuss the difference between big city and small town art. Then David and Leslie call over to Richmond to catch C'Ville ex-pat Sarah White after her first cup of coffee and before she heads over here to rehearse for this year's Sarah White and Friends Christmas Show at the Southern Cafe and Music Hall. Sarah's been doing the show for fifteen years or more making it a bona fide Charlottesville holiday tradition. Who says we can't get into the holiday spirit in between strident attacks at racism. Remember, say "Okay" to a white Christmas but "No Way!" to white supremacy. We're keeping it holly jolly real on this week's Home Grown: Your Show about Local Art.
Standard Podcast
[ 57:25 ]
Play Now
|
Play in Popup
|
Download
(95)
Home Grown is heard on 94.7 WPVC the Progressive Voice of Charlottesville, Sundays from 10 a.m. to 11 a.m.