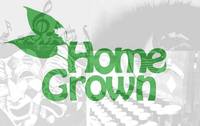 Home Grown: Your Show about Local Art
Stories. Telling true stories. Telling funny stories. Telling stories to connect us. Telling stories to self-express. Today on Home Grown we talk with related but different artistic cousins. First Joel Jones, co-founder of Big Blue Door, returns to the show to talk about the latest incarnation of their class Telling True Stories. Joel's one of the smartest artists that we know so we always love talking to him, though we always feel like we barely scratch his surface. Next we continue our serious talks (or sort of serious) about being seriously funny. Stand-up Chris Alan returns and brings with him fellow comedian Winston Hodges. They're going to be hosting The Ante Up Comedy Show (Host Battle Edition), and we take the opportunity to talk about the craft of stand-up. It's a look at the side of art that's all about stories. (At least that's our story, and we're sticking to it.) Of course, all sides of art have a home on Home Grown: Your Show about Local Art.
Standard Podcast
[ 58:02 ]
Play Now
|
Play in Popup
|
Download
(88)
Home Grown is heard on 94.7 WPVC the Progressive Voice of Charlottesville, Sundays from 10 a.m. to 11 a.m.