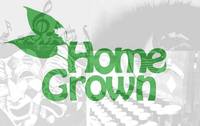 Home Grown: Your Show about Local Art
Today on Home Grown we soldier on for a second week without the winsome (or lose some, buh-dumb-bump) Leslie M. Scott-Jones, and, even worse, David has to pop in and out due to his day job, leaving Clinton mostly on his own with two great guests. First, Deborah McLeod, director of Chroma Projects Art Laboratory returns to the show. She's been working since April on organizing the first FLOW: The Rivanna River Renaissance Festival, a multi-genre collection of art installations connecting us to the Rivanna River, which Clinton reveals is rarely on his mind. Then author Sharon Harrigan visits the show for the first time to talk about her moving upcoming memoir, Playing with Dynamite. She reads a little from her work, and we fall into talking about the importance of and danger in telling personal stories and how memoirs can be so much more than old politicians rewriting their histories or celebrity tell-alls. It's another window into upcoming art this Sunday morning on Home Grown: Your Show about Local Art.
Standard Podcast
[ 57:12 ]
Play Now
|
Play in Popup
|
Download
(124)
Home Grown is heard on 94.7 WPVC the Progressive Voice of Charlottesville, Sundays from 10 a.m. to 11 a.m.