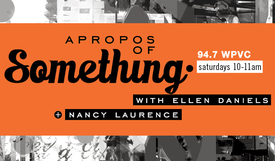 Apropos Of Something hosts Ellen Daniels and Nancy Laurence talk with David Vaughn Straughn, community organizer and Solidarity Cville member, on how to dismantle the underlying systemic racism in Charlottesville; and Philip Zelikow, a White Burkett Miller Prof. of History and Fmr. Exec. Dir. 9/11 Commission, on understanding constitutional law as it applies to free speech.
Standard Podcast
[ 1:01:53 ]
Play Now
|
Play in Popup
|
Download
(247)
Apropos Of Something seeks out guests who are passionate about the arts, politics and society at-large. Co-hosts Ellen Daniels in Charlottesville and Nancy Laurence in New York City chat with experts, activists, and the most interesting people they can find. We guarantee every show will be Apropos Of Something.
Join Ellen and Nancy on 94.7 WPVC the Progressive Voice of Charlottesville, every Saturday from 10-11 a.m.