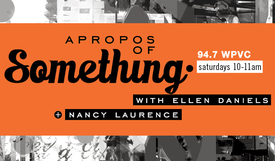 Apropos Of Something hosts Ellen Daniels and Nancy Laurence talk with Louis Nelson Ph.D., Associate Provost for Academic Outreach and Professor of Architectural History, on uncovering our slave past, honoring their contributions and righting historical reality; and Seth Wispelwey, Directing Minister at Restoration Village Arts, on the importance of supporting socially-minded artists in their efforts for justice and peace.
Standard Podcast
[ 51:10 ]
Play Now
|
Play in Popup
|
Download
(291)
Apropos Of Something seeks out guests who are passionate about the arts, politics and society at-large. Co-hosts Ellen Daniels in Charlottesville and Nancy Laurence in New York City chat with experts, activists, and the most interesting people they can find. We guarantee every show will be Apropos Of Something.
Join Ellen and Nancy on 94.7 WPVC the Progressive Voice of Charlottesville, every Saturday from 10-11 a.m.