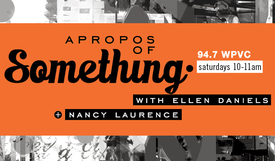 Apropos Of Something hosts Ellen Daniels and Nancy Laurence chat with rappers Cullen Wade aka Fellowman and Remy St. Clair about their 9 Pillars HipHop Fest. Then, writer Garnette Cadogan details the promise and perils of urban life, including just walking its streets.
Standard Podcast
[ 54:53 ]
Play Now
|
Play in Popup
|
Download
(291)
Apropos Of Something seeks out guests who are passionate about the arts, politics and society at-large. Co-hosts Ellen Daniels in Charlottesville and Nancy Laurence in New York City chat with experts, activists, and the most interesting people they can find. We guarantee every show will be Apropos Of Something.
Join Ellen and Nancy on 94.7 WPVC the Progressive Voice of Charlottesville, every Saturday from 10-11 a.m.